Recycling our waste on the Central Coast is easy and has become a daily activity which has real environmental benefits. When you recycle, you help save important natural resources like minerals, trees, water and oil. You also save energy, conserve landfill space, decrease greenhouse gas emissions and reduce pollution.
Recycling closes the resources loop, ensuring valuable and reusable resources do not go to waste. Instead, they are put back to good use, making much less impact on our environment in the remanufacturing process the second time around.
Your yellow lid bin is for recycling only. This bin is collected fortnightly on the same day as your red-lidded garbage bin, but on the alternate weeks to your garden vegetation bin.
Visit our Bin Collection Day page to find out what day your bins are emptied.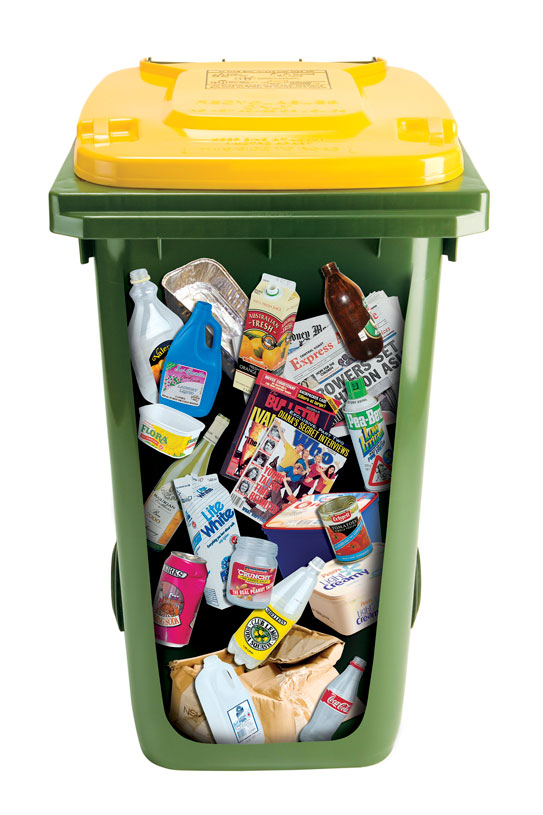 The following can be placed in your yellow lid recycling bin:

Items not accepted in the yellow lid recycling bin:
Items not accepted in the yellow lid recycling bin:
Plastic bags and wrappers
Clothing, linen and shoes
Shredded paper
Long life cartons
Polystyrene and Styrofoam
General waste including nappies and food waste
Garden waste
Ceramics, light globes and Pyrex
Electrical appliances
Hazardous wastes, paints and oils
Medical waste or syringes
Gas cylinders and fire hydrants

If you put the wrong items into your recycling bin, it may not be collected.
---
Recycling Tips
No plastic bags: Simply put your recyclable items loosely into the bin. Staff at the recycling centre will not open plastic bags, so anything placed in a plastic bag will end up in landfill.
Recycling right: Make sure jars, bottles and cans are empty and contain no liquid or food. Tip out your liquids and scrape out any food remains. If you prefer to wash your recycling use old dishwater instead of fresh water.
---
What happens to your recycling?
Each fortnight Cleanaway empties your recycling bin and delivers the material to a Materials Recovery Facility (MRF). The MRF is a large factory where household recyclables are sorted into individual commodity streams, such as paper, metals, plastic and glass using machinery. MRF employees (called Sorters) remove large pieces of contamination (such as plastic bags, clothing, dirty nappies and food waste) by hand. After recyclables have been sorted and baled they are transported to reprocessing centres both within Australia and overseas, where they are manufactured into new goods.