Cleanaway operates a domestic recycling and waste service for residents on the NSW Central Coast on behalf of the Central Coast Council.
For the majority of residents this is a three-bin system, consisting of:
One 240 litre yellow lid recycling bin collected fortnightly
One 240 litre green lid garden vegetation bin collected fortnightly
One 140 litre red lid general waste bin collected weekly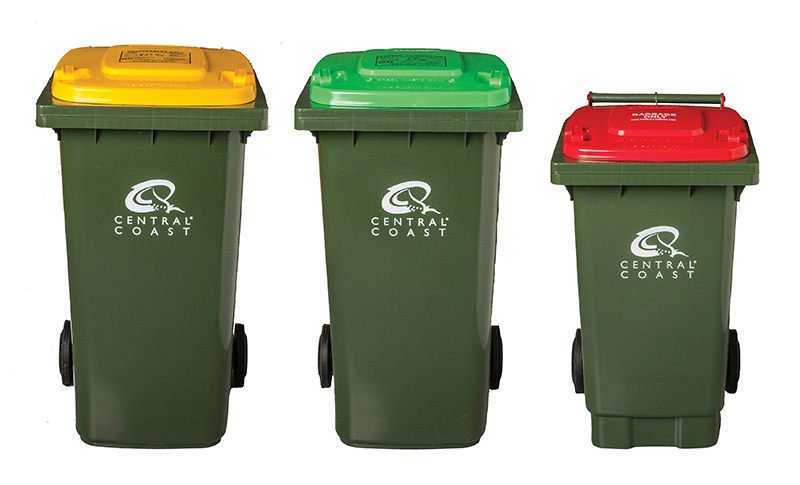 These bins come in different varieties to suit the diverse needs of residents within the Central Coast region. For example, properties located west of the Sydney to Newcastle M1 Pacific Motorway do not have a garden vegetation bin service and some Multi Unit Dwellings may share larger bulk bins for their waste and recycling. For a small annual fee, residents can also acquire additional recycling, garden and vegetation or general waste bins or upgrade to a larger red bin for general waste.
Visit our Additional Bins page to learn more.
Your bins are emptied on the same day each week, with the general waste bin emptied weekly and the recycling and garden vegetation bins on alternating fortnights.
Visit our Bin Collection Day page to learn when your bins are emptied.
To find out what can be placed in each bin visit our Recycling Bin, Garden Vegetation Bin and General Waste Bin pages.
---
Bin Placement Guidelines
Cleanaway truck drivers on the Central Coast are servicing over 280,000 wheelie bins each week across the Central Coast, with most drivers emptying over 1,000 bins on a daily basis.
The following steps should be followed when placing bins out for collection:
Bins should be placed on the kerbside (not the gutter or road) the evening before your collection day
Bins should be in clear view of the road with the handles facing away from the road
Leave a space of between 50cm and 1 metre between the bins so that the collection trucks do not hit bins together and knock them over
Do not overfill your bins. The lid must close properly
Do not put extra bags or bundles near your bin as they cannot be collected
Ensure bins are clear of overhanging trees, mail boxes and parked vehicles
Ensure your bins are not too heavy (they must weigh less than 70kgs for collection)
Bins are allocated to each property. If you move, do not take the bins with you
Remove your bins from the kerbside on the day of collection once they have been serviced