Garden vegetation bins are available for all properties east of the Sydney to Newcast M1 Pacific Motorway. This makes recycling garden waste easier than ever on the Central Coast. Recycling garden vegetation has real benefits for the environment, the most obvious being the landfill space saved.
Your green lid bin is for garden vegetation only. This bin is collected fortnightly on the same day as your red-lidded garbage bin, but on the alternate weeks to your recycling bin.
Visit our Bin Collection Day page to find out what day your bins are emptied.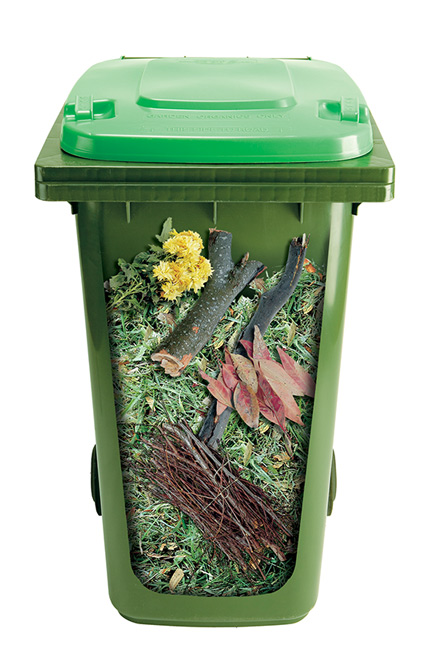 The following can be placed in your green lid garden bin:
Grass clippings and leaves
Flowers and weeds
Prunings, twigs and branches
Untreated timber
Plants and small shrubs

Items not accepted in your green lid garden vegetation bin:
Rocks and soil
Food scraps
Garden hoses
Pots
Treated timber and lattice
Large branches, logs and stumps
Plastic bags
Biodegradable bags
Pet waste including kitty litter
Building materials

If you put the wrong items into your garden vegetation bin, it may not be collected.
---
Garden Vegetation Tips
No plastic bags: Simply put your vegetation items loosely into the bin. Staff at the composting facility will not open plastic bags, so anything in a plastic bag will end up in landfill.
Composting right: Make sure branches, pruning and twigs including palm fronds are cut to a length that enables the lid of the bin to close.
---
What happens to your garden vegetation?
Each fortnight Cleanaway empties your garden vegetation bin and delivers the material to a commercial composting facility. A number of products are produced at the facilities, including mulches, organic fertilisers, landscape soils, potting mixes and top dressing, which are sold to various landscaping industries.